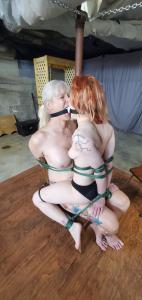 12 photos
Jessica Hart is back! She's been bound to a chair and made helpless to the lap animal that is Zonah Bellum.
Jessica and Zonah both are topless, Jessica's giant boobs making a shelf for Zonah's smaller breasts to lay and play on. Their elbows and wrists are tied along with a waist wrap for them both, securing the lap position to the chair. Legs are tied wrapped from Zonahs knees to Jessica's wrists and around the chair sealing the deal and squeezing their bodies together.


To heighten the moment, Zonah and Jessica share an open mouth gag, strapped tight in an enduring kiss. Queue Drool.