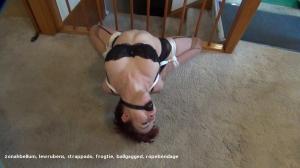 Lew Rubens and I are in Sydney Australia for the Lewbari Downunder Tour and I was not a good girl.
While wearing black lingerie and my 6" black velvet heels (lacy balcony bra and lacy black panty/garter with sheer thigh-highs) my elbows are tied tightly behind my back while my ankles and heels are frog-tied to my thighs.
He transitions to a strappado while keeping my elbows slammed together and my legs frog-tied.

He also cinches my whole body close up to the banister while I am on my knees, first by my chest, then my wrists.

I have to endure this as punishment for being bratty and struggle with holding each of these three bondage situations. I will remember this the next time I work with Lew Rubens.
Have I learned my lesson or will I want to push his buttons?