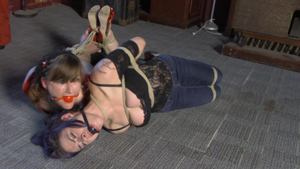 Purple haired Zonah Bellum is on a couch in a reverse prayer tie wearing 6" black heels, a low cut lace leotard, and tight blue jeans.
She is ball gagged, her legs are bound from thigh to calf to ankles.
Her girlfriend who is also wearing her tight jeans and cute red top which matches her high red pumps. She is even gagged with a bright red ball gag.
Big Mr. Ogre throws AJ Marion to the couch with her arms already tied behind her back and wrestles control over her feet to tie her ankles to her thighs He then takes her to the ground to put her into a very tight hogtie with her throat tied as well. She can can hardly move at all in this position with the ropes as tight as they are and Zonah Bellum can only watch as her girlfriend is thrown into the same fate.