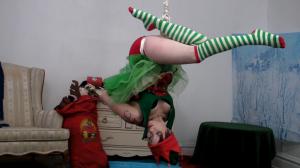 25 photos; 13:21 video
I'm Santa's Aerial Performing Elf and I needed practice to come up with my new routine for this years Christmas Party. Everything was coming along fine until... I was XXXX by some mischievous holiday creeper!
Stolen, bound, ballgagged, and XXXX to sit atop a round table struggling against my ropes, looking for knots to make my escape..