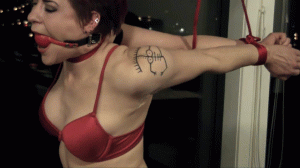 I'm captured while in New Zealand and tied to a frame in front of large glass windows. I am bound at my ankles by rope to a stool in the middle of the frame with my arms tied together at the wrists behind my back. Im also ballgagged with a big red gag and a neckrope that reaches to the tope of the frame and back down to my wrists.
If I try to release my high pulling strappado, the rope pulls on my neck. If I want to breathe I have to hold the strappado position.
Featuring:
Redhead, red undergarments, high stiletto heels, rope bondage, ball gag, and predicament.