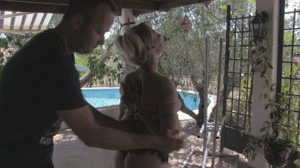 33:06 video
Zonah meets Sasori for the first time after the BoundCon convention and she is dying to get in his ropes.
She chooses a thin black lace panty and nothing else. Topless, but with her nipple rings in. Zonah bounces over and waits impatiently for her rope. He puts her in a reverse prayer, but she's still a little squirmy so he plays with her a little, neck grab, breast play, and bends her over and spanks her.
The Metal frame is put into place and Zonah can't stop swaying and licking her lips. He ties zonah sitting on the frame facing metal posts and ties her legs in a frog-leg tie. She's helpless and unable to squirm or sway but he continues to spank her anyway.
Sasori then adds a mouth opener; a mouth device she hasn't been in before. It keeps her mouth WIDE and she can't bite down or swallow, making her drool everywhere. Zonah is then tipped over and scaring her because she so helpless in this position. Untying her form the frame, he puts Zonah against the wall and takes the piece of equipment away, while we get to watch as Zonah tried to play with the mouth opener. When he comes back she's still trying to adjust the mouthpiece... he moves her over an overhead point and ties her reverse prayer-ed arms to the point.
Sasori then stretches Zonah's leg out and ties to a post and continues with the second leg, forcing her ass up in the air into a yoga frog pose position.
Of course, he then adds a crotch rope.

Watch as Zonah is tied ass up, in a reverse prayer, helpless with a crotch rope that Sasori really wants to play with.