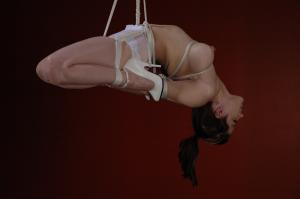 97 photos
Soon after Lew and Zonah met they dove right into suspension bondage. Here is their first photoshoot together at the Woodshed in Orlando. **Bonus behind-the-scenes Zonah shoot.
First, Zonah is in white, white panties and white heels to match for the white nylon that shes tied in. Breasts tied, thighs tied, waist tied as her back is severely arched and then wrists tied between her own legs.
Second, Zonah in black: panties, heels, choker and gloves. Suspended JUST by her back. Her arms are tied up together with her legs, attached to the rope she's suspended on. Then we apply a rope around her eyes and gagged.